Badminton
Carmel 2 won B grade at Badminton yesterday and Carmel 1 came second. The girls (pictured above) are:
Team 2 (Gold medal winners) – Angelina Pan, Christina Pan, Gabrielle Paloma, Kareena Young and Fides Garcia.
Team 1 (Silver medal winners) – Alexa Bunanta-Dimas, Siena Seeto, Ally Basa, Sophie Choi and Jana Vicente.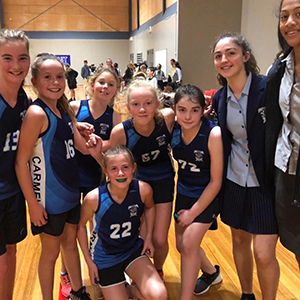 Basketball
A win for our Year 7 Basketball team (pictured above) at the end of the season, giving them a 3rd place result. Thank you to Gareth Teahan, Isabel MacGregor and Qaizden Stephano for coaching them.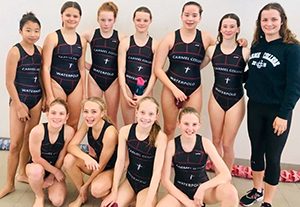 Water Polo
Congratulations to our intermediate Water Polo girls who finished 2nd in the North Harbour zone day yesterday. Thank you to Sarah Stewart for coaching and Sinead O'Malley for managing them during the day.
Gymnastics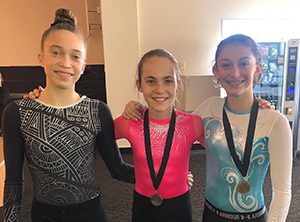 Great work at the Auckland Gymnastics Secondary Schools Competition by Sophie Farrell, Ruby Wilson, Sienna Sargent and Reese Steinberg. Congratulations to Reese 1st place in Step 7 and Sienna 2nd place in Step 6.
Pictured here from left: Sophie Farrell, Sienna Sargent and Reese Steinberg.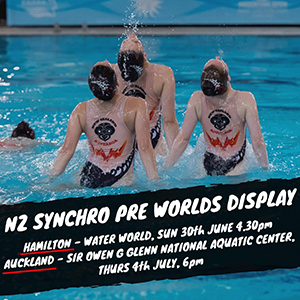 Synchronised Swimming
Good Luck and congratulations to Carmel student Nina Brown and Aquaferns – New Zealand National Synchronised Swimming Team travelling to FINA WORLD CHAMPIONSHIP in Korea next week to compete. Before flying out the girls will perform a display for Auckland friends and family and supporters. Come and support our NZ Aquaferns!  Thursday 4 July, 6pm @ NAC.