Celebrating two remarkable Carmel sportswomen – Greer Morley (Year 13) and Caitlin O'Reilly (leaver 2021) who were recognised at the AIMES Emerging Talent Awards recently.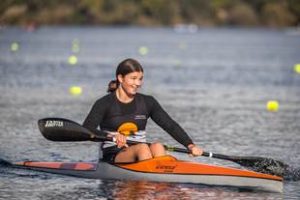 Current Carmel student, Greer Morley, is a high achiever in both canoe sprint and surf ski racing.  She has won many national and regional event titles and is a member of the Mairangi Bay Surf Lifesaving Club.
Greer is out on the lake each day, training with Dame Lisa Carrington and Aimee Fisher; her training regime consists of 4-5 hours per day, before and after school, and during weekends.
Greer's ultimate goal is to represent New Zealand at the Los Angeles Olympics in 2028.  She received a North Harbour Club Scholarship grant of $3,000 which will assist her in achieving her goals and to travel to overseas events.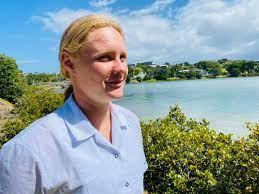 Former Carmel student, Caitlin O'Reilly, was first recognised by the North Harbour Club with a Junior Excellence Award following her swim across the Cook Strait in 2017 – the youngest person at age 12 to ever complete the difficult 17.5km swim.  Four years on she received a North Harbour Club Scholarship grant of $3,000 recognising the achievements she continues to make as an Ultra-Marathon Swimmer.
Caitlin is off to Japan next month to do the next leg of the Global Channel swims – there are 7 in total.