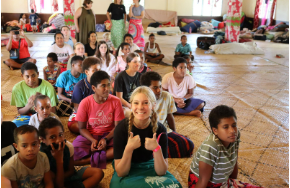 I have just returned from three weeks in Nadi, Fiji on a Mission Trip. The first week was spent at the Coral Coast Christian Camp training to be Ministers of the Gospel and sharing the Good News. We ran after-school programmes for the local village kids, engaging in singing, dancing and playing with them, as well as having good conversations about their knowledge of God and what the Good News meant for them.
On the first weekend, we travelled to a small village outside of Suva called 'Kumi Village'. Here we were billeted out to villagers' homes in groups of 5 and we immersed ourselves in the living of local Fijians. Other churches, youth groups and village youth travelled to stay at Kumi also for a weekend camp. We joined in on all the activities and events and got to run some; such as performing dramas that taught about God's love, sharing some more of our testimonies and the gospel. It was tough living conditions but also humbling. The genuine experience was very eye-opening and made me eternally grateful for all the opportunities and comforts that I am blessed with here in New Zealand.
In the second week, we travelled back to Suva City and stayed at a hostel where we did more Ministry training and ran programmes for schools, youth groups and churches in both the afternoons and evenings. We also travelled to High Schools and Primary Schools sharing messages and testimonies, and engaging in conversations with other youth about their knowledge of the Gospel, God and his word. 
This was an experience where I could fully immerse myself in the culture and get involved with the locals. I would recommend this trip to others. It was rewarding and extraordinary. 
Lily Robertson, Year 11