Dedication Mass
On Friday 10 February, we celebrated our Carmel Dedication Mass.  During this mass, Father Mark commissioned the 2023 Student Leadership Team.  The following Year 12 2023 Eucharistic Ministers were also commissioned – Chloe Ronquillo, Xin Ang Lau, Alice Wild, Honor Braid, Savannah Blewden, Niketa Fernando, Melinda Chen, Lily McGivern, Camille Chan.  It was a wonderful way to start off the year. 
Year 7 Retreat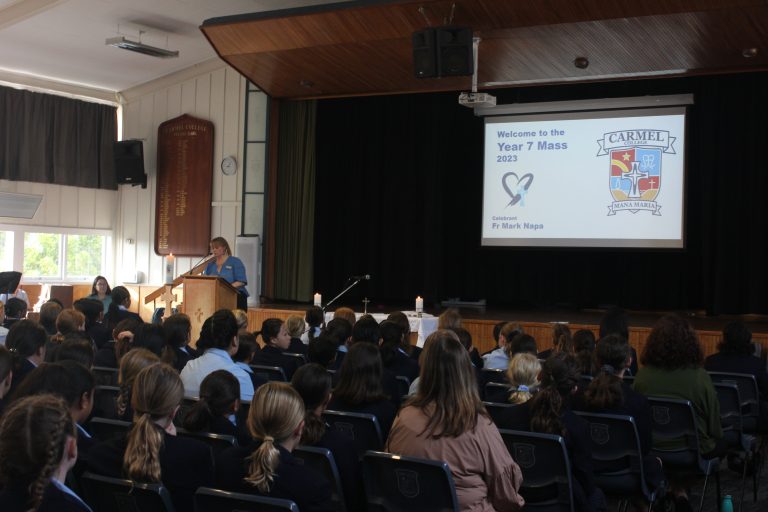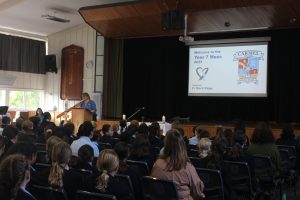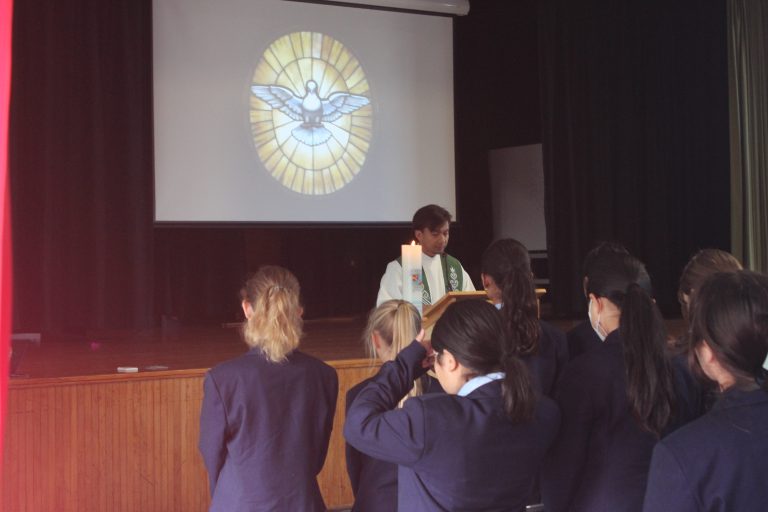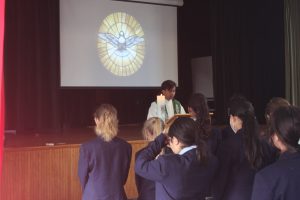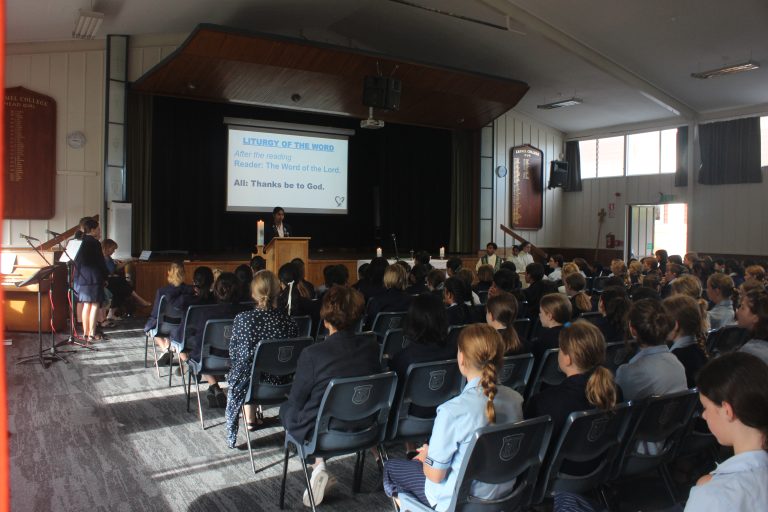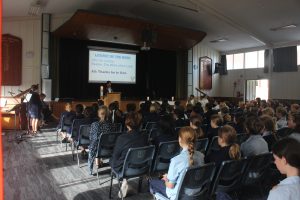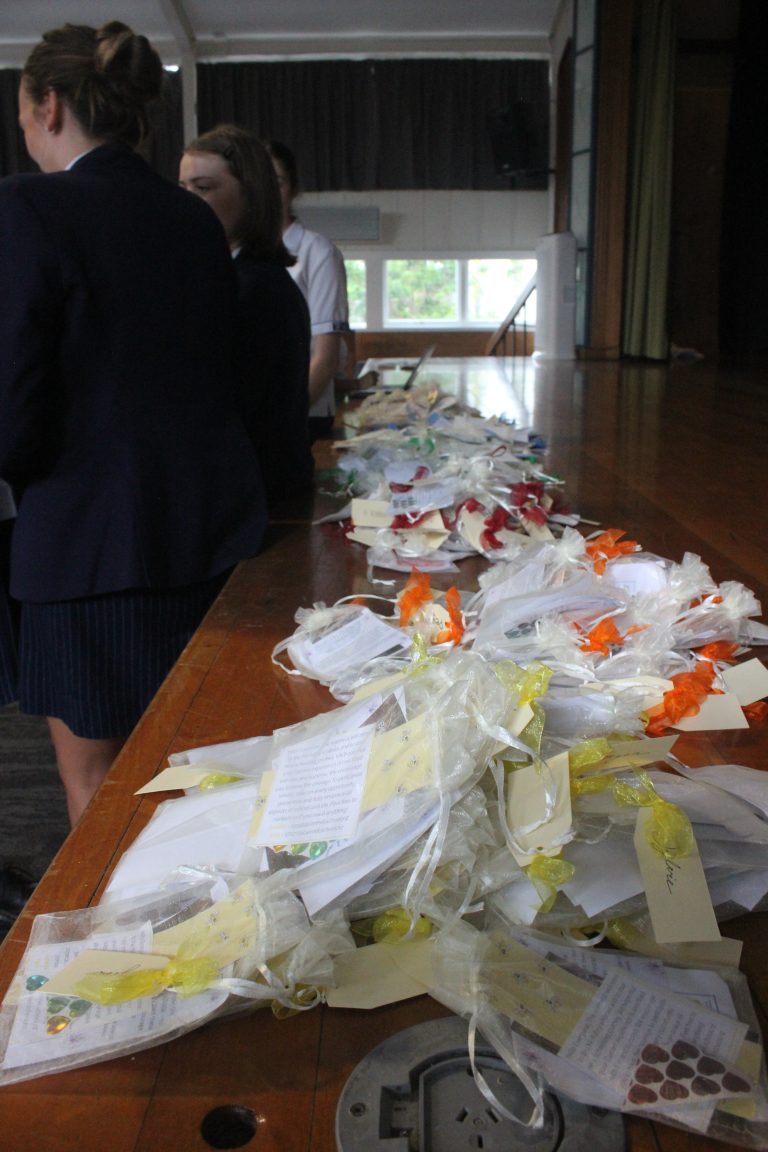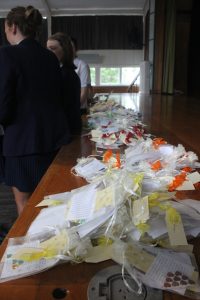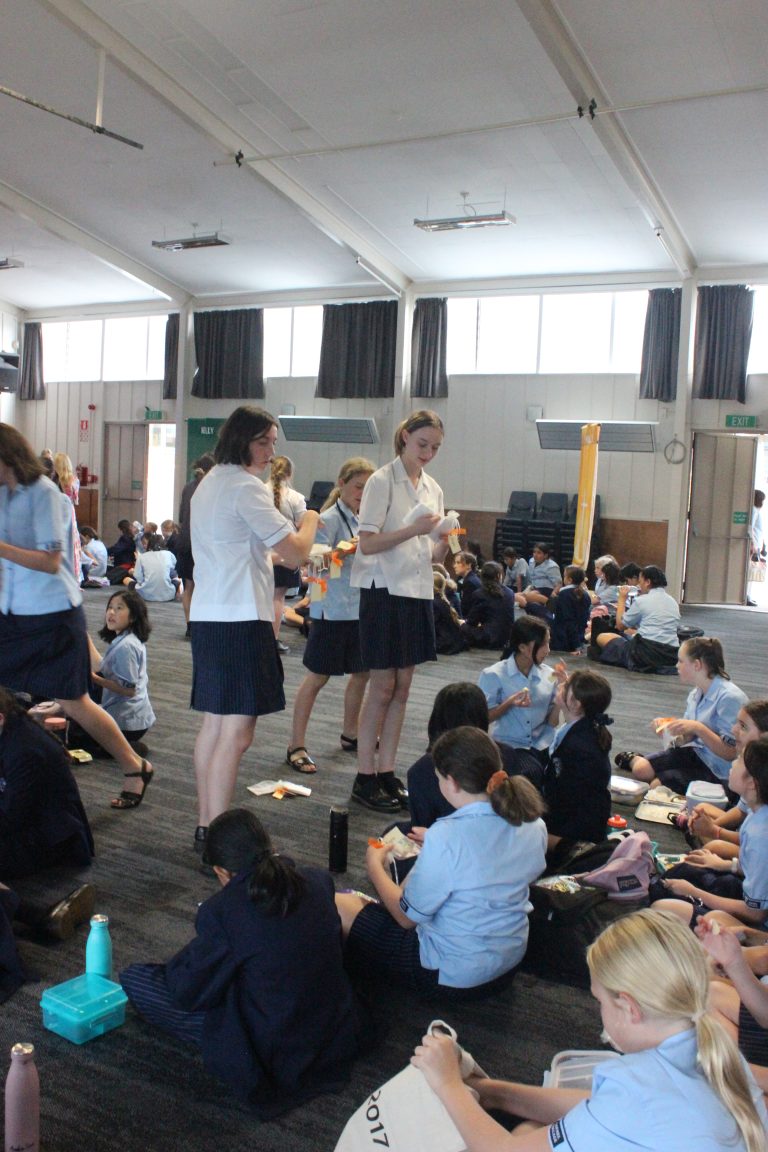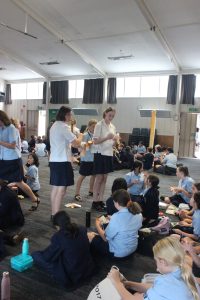 Year 7 students were welcomed back to school with sunny weather, a nice contrast to "Gabrielle" who kept them away for a long 2 days.  The Retreat started off with Mass attended by students and some of their families and was followed by some fun, thoughtful activities, such as drama performances and art.  Each girl was asked to paint their idea of courage.  Among many beautiful designs were crosses, dragons, hearts and even love hearts with strong arms.  Each student had an excellent and interesting interpretation of this new school value.
Rain crept in by lunch break, however, this time the bad weather gave all girls an opportunity to come together under the shelter of the school hall.  During this time they got to know each other better, before gathering in House groups and performing House chants which travelled far and wide from the hall.  Despite Year 7 making up a small portion of each House group, and despite the fact that they were all new to Carmel, the girls really participated.  In fact, when asking some girls about their favourite Retreat moment, the response was "I really liked the chants and getting the badges" (in reference to the House badges they were presented with during the Retreat).  The girls were also given goodie bags organised by our Student Leadership Team which contained some nice gifts, among them borage seeds, a plant which represents courage, and a bingo card with fun and interactive activities to complete over the year.
Seeing the new students having fun, and hearing girls say "we made lots of new friends today" confirmed this Retreat was a success and we hope everyone walked away excited for the upcoming year!
Faith Cafe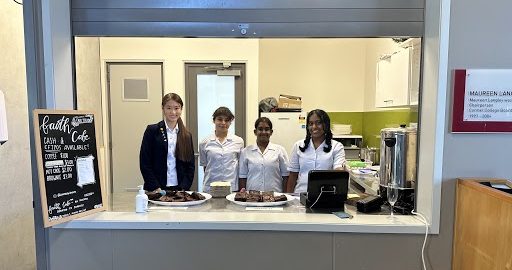 Our Faith Café is back for 2023 run by this year's leaders – Neththra Fonseka, Isabella Castillo, Syntyche Khoo and Anna J'Mathew.  We are all very excited to be able to run this amazing organisation!
Every Friday morning (7.40-8.40am) we will be selling brownies, hot chocolate and hot drinks, and sometimes other goodies, so be sure to check your emails to see what is available!  This Term all the money earned will be donated to the Auckland Flood Relief, so you'll not only be buying something nice for yourself, but you'll also be helping those in need!  For more volunteer opportunities be on the lookout for our Special Events Roster.
We are looking forward to seeing you soon.
Service Hours
All students are required to complete service hours each year:
Years 7&8 – 10 hours
Years 9&10 – 15 hours
Years 11,12,13 – 20 hours