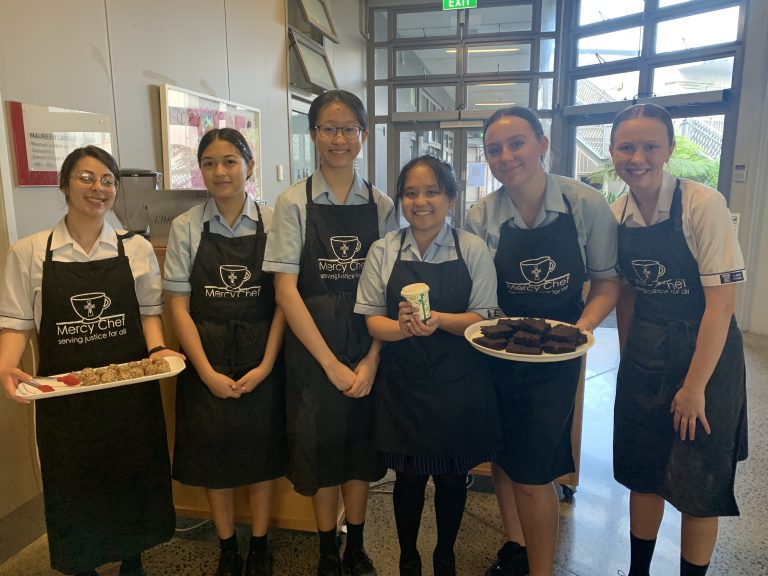 Last Friday morning, the Atrium was the hub of Carmel College – and more so than usual; as students and teachers all came to grab a delicious treat or beverage from the Faith Cafe for the last time for 2020. With the challenging year that it has been, it was wonderful to end this year's Faith Cafe by serving so many eager members of the Carmel Community on the International Good Cup of Tea Day in honour of Catherine McAuley. 
Accompanying the regular Friday Morning Faith Cafe was a special visit from Rachael Neale. Rachael is the founder of a new sustainable initiative by the Solve Group ('Compostaway') – a compost bin that collects all compostable coffee cups and lids. Through this visit, Carmel students and teachers not only became informed about the importance of the commercial composting but they also made excellent use of this trial by popping their compostable Faith Cafe packaging in these bins. This was a great step in the right direction towards caring for the environment and building a more sustainable school, which can hopefully be maintained in the future.
Carmel College is committed to using these compost bins for the Faith Cafe into the future as a way to put our value of caring for our common home into action and delighted to be working with Rachael to make this possible.  If you would like more information about supporting us in our efforts and sponsoring a Compostaway box to be used at the Faith Cafe next year please contact Anna Nicholls on anicholls@carmel.school.nz
It was so rewarding to end the year with one of our busiest days for Faith Cafe 2020, as it contributed to our $1500 donation to De Paul House (coming from this term's proceeds and those at the end of Term 2). This donation was made possible through the collective contribution by Carmel Students and Teachers, which ultimately makes a substantial positive difference to vulnerable lives in our wider community. A huge thank you to our beautiful volunteers who have showed up bright and early on Friday mornings and baked on countless Thursday afternoons this year, your commitment to the Faith Cafe is so valued. Additionally, Mrs Henden's unending support and dedication to the Cafe is what makes these charitable contributions possible, and we are so tremendously grateful for her continual involvement.
Charlotte Regtien, Year 13