Carmel College have paired up with Monitor to bring an ease of use for the following:
Printing and printing funds
Paying Kamar and sport invoices
Purchasing workbooks, jumpers and other merchandise
Parental & Community Donations
Here is the link for My Monitor: https://shop.carmel.school.nz/mymonitor/
Please log in with your parent login: youremailaddress
If you have lost or do not know your password, you can reset your password as follows: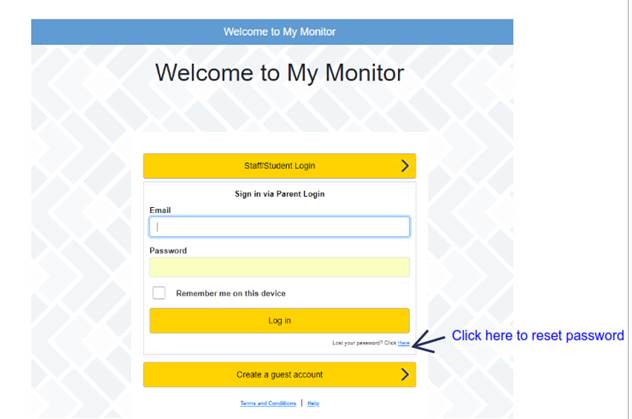 Once in you will be able to see your daughter's accounts and items to be paid. Two methods of payment:
Credit card and A2A – a receipt will automatically be emailed to you.
From My Monitor – you can toggle to Monitor Online (Shop) by clicking on the navy blue icon at the top of the page – (with a shopping trolley)

In addition to this online system, you may notice a kiosk in the student reception area which has an array of payment options.
Students and parents can use the Monitor Kiosk (as well as online) to add funds to student accounts, view account balance, purchase tickets, workbooks as well as make donations.
Any queries, please contact Business Manager, Claudia Officer: cofficer@carmel.school.nz