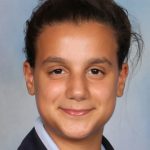 Congratulations to Year 8 student, Ece Dalgic, who recently took out a range of awards at the West Auckland Performing Arts Competition. Ece walked away with the "Pae Tawhiti Scholarship Award" for showing particular promise in Singing. She also gained 3rd place in National/Folk, 2nd place in Sacred solo, 3rd place in Song in costume and 3rd place in Vocal solo.
Carmel Senior Choir and Carmini at the Big Sing
On Tuesday 20 June our Choirs, Carmel Senior Choir and Carmini performed at the Auckland Regional of the Big Sing Competition. Below are the links to their performances
Senior Choir: https://youtu.be/50BzzElK0Ew
Carmini: https://youtu.be/K094GQ6UrME
Carmel Music Alumnae Receives AIMES emerging Talent Award
Talented and dedicated North Harbour youth were celebrated recently at the AIMES annual 'Emerging Talent Awards'; 17 individuals were acknowledged for their outstanding performances across the fields of Arts, Innovation, Music, Sport and Service to the Community.
Among the winners was Carmel Music Alumnae, Madeleine Xiao. She won an AIMES Scholarship award ($3000) for emerging talent. Since leaving Carmel College in 2021 she has continued to pursue excellence in everything she does. She has been selected to attend the Adam Chamber Music Festival in Nelson, working with the New Zealand String Quartet and she also played Chopin's Piano Concerto No.1 in E minor with the Christchurch Symphony Orchestra, competing in the finale of the National Concerto Competition where she placed third. Madeleine is currently a second year BMus Music student, majoring in classical performance at the University of Auckland.
Songwriting Winner 
Early in Term 2, Year 10 Music student, Aisling Geoghegan, entered her song in the Play it Strange "Peace" Songwriting competition. Aisling was a finalist and will get her song "The Eye Of The Storm" professionally recorded.  All of the finalists' songs will be released on Bandcamp and other streaming platforms later this year.