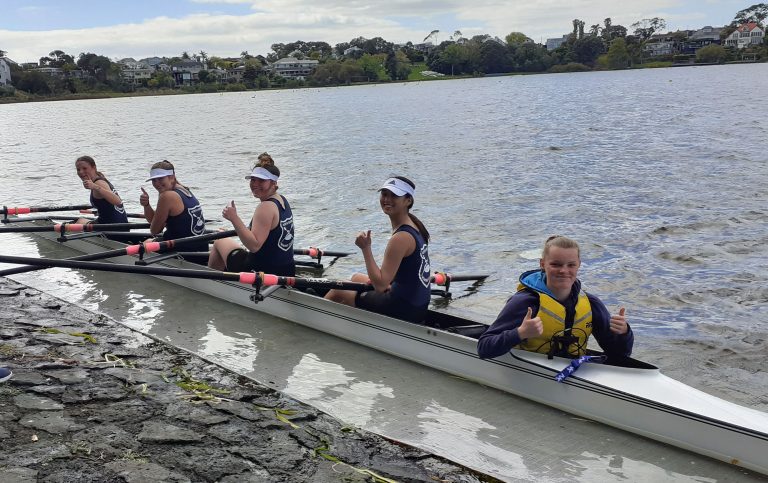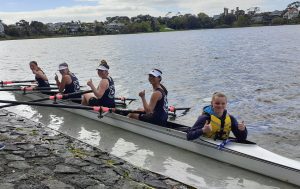 Rowing Success
On Saturday 17 October the Carmel Rowing Squad had success racing in the Eric Verdonk Memorial Regatta on Lake Pupuke.
Results were as follows;
Novice Rowers 
Ruby Armiger, Rosa Bae, Olivia Martin & Mary Black
1st in Novice Coxed Quad with coxswain Taylor O'Reilly (pictured at left)
1st & 2nd places were also achieved in mixed crews with other Club rowers in the Novice Coxed Fours and the Novice Eights race.
2nd Yr Rowers – Intermediate Division
Caitlin O'Reilly, Luci Hall, Madison Lockyer & Grace Rackman
2nd in both doubles
5th in Single (Caitlin)
1st in the Coxed Quad
1st in the Coxed Four (pictured above)
3rd Yr Rower – Open/Club Divisions
Orla Cuffe
1st in the following events, mixed with other Club Members
Quad, Coxed Four, Coxlees Four and Eight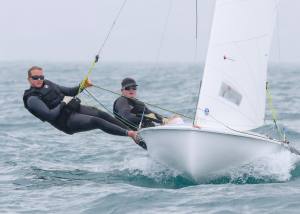 Sailing Success
Leah and Kiera Sinton competed in the 420 class at the Yachting New Zealand Youth Trials held at Manly from the 7th-10th October. This event attracts the best youth sailors from around the country. Ten races were held with conditions varying between light winds (of about 20 kph) on the first day to winds of over 50 kph along with two-metre swells on the final day of racing. Their best day of the regatta was the final day when Leah and Kiera scored a 2nd, a 3rd and two 4th placings to end the regatta 2nd girls, 4th overall.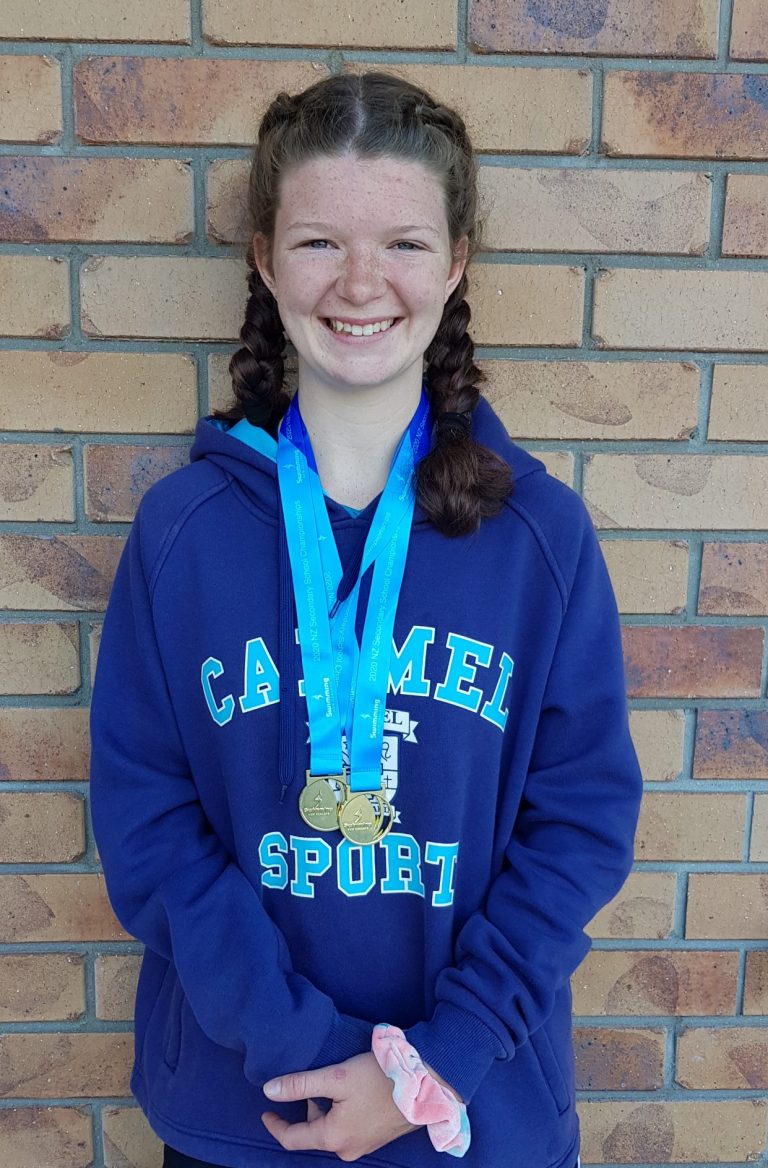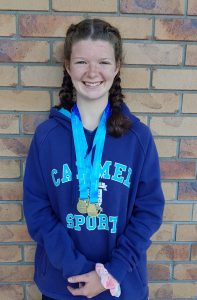 Swimming Success
Congratulations to Sionann Murphy who won 2 Gold Medals at the recent  NZ Secondary Schools Swimming Championships.  Sionann also broke the SB6 Open Age Group NZ Record for Womens' 50m Breaststroke.
Last week at the NZ Invitational Series in Auckland (running parallel with NZ Short Course Champs in Hamilton due to Level restrictions) she also broke the SB6 Open Age Group Record for Women 100m Breaststroke!  This put her in 3rd place in NZ.