The Innovative Young Minds
During the holidays, Skyler Anderson (Year 11) attended The Innovative Young Minds (IYM) programme. This is designed to encourage young women to explore science, technology, engineering, mathematics and high-tech manufacturing – fields we call the STEMM sector.  Her report follows:
Every day this week we had 4 to 6 hour sessions where we would listen to influential women in science from all across New Zealand.  Some of these included Alexia Hilbertidou, the founder of GirlBoss; Audrea Topps Harjo, a NZ Director and Digital Production Manager for international film; and Sophie Handford, the National Coordinator for the 'School Strikes for Climate'.
Overall, these speakers helped me to have a deeper understanding of the world of science and the types of jobs included in this line of work.  We were not only introduced to future roles but university courses and paths as well.
When I was not listening to these amazing and influential women, I was working on my innovation challenge with a group of 9 other girls.  For the innovation challenge we were asked to develop a pitch to identify and understand a problem or opportunity to help the environment and then identify an innovative solution using renewable energy sources to solve this problem.  We spent 5 hours designing a presentation and a new idea to meet the brief.  Our team was awarded 2nd place out of 10 teams which we were all super proud of.
Skyler Anderson, Year 11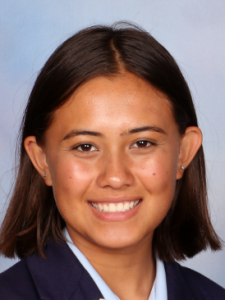 Brain Bee 2021
Congratulations to Year 11 students Lia Cho, Reanna Misquitta, Sara Painuthara, Shana Singh-Anderson, Layla James and Olivia Kusuma who have been successful in Round 1 of the Australian-New Zealand Brain Bee Challenge (ABBC).  These six girls began studying for the competition in November last year, sitting their test in March, which was made more difficult by the challenging time with the changing COVID-19 situation.
They will now compete in Round 2 after attending the University of Auckland Faculty of Medical and Health Sciences where they will spend time in the AMRF Learning Centre, participate in lab tours, a team/teacher quiz, meet-the-scientists session and hear some brief talks from researchers on their work related to some of the topics in the learning modules.
From left to right Lia Cho, Reanna Misquitta, Sara Painuthara, Shana Singh-Anderson, Layla James, Olivia Kusuma