Year 7/8 Cross Country North Harbour Zone Day
Big congratulations to the 17 girls who competed in the cross country zone day on Tuesday. Well done to Imogen O'Rourke who placed 2nd overall and has qualified for the Auckland Interzone event. Well done also to Seanna Watson and Ella Henderson who came within the Top 30.
Pictured above from right are; Ella, Seanna and Imogen
Year 7/8 Netball North Harbour Zone Day Our 7/1 and 8/1 teams competed in the Netball Year 7/ 8 North Harbour Zone Day! 8/1 played in the final winning 20-7 against Albany coming 1st place and 7/1 coming 6th. Well done and congratulations to all the girls who played. Also thank you to our Sports Council girls for all the help. Our Year 8/1 team have qualified to compete at the upcoming Auckland Interzone day because of their 1st placing.
Pictured here are the team with the Sports Council girls who helped.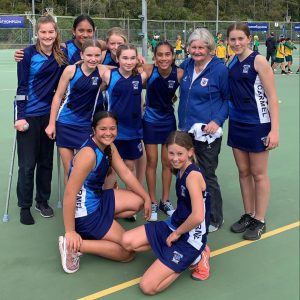 Thank You To Past Students
Big shout out to all our past students back helping out with Carmel sport in 2020. It's a privilege to have them all still connected to Carmel and assisting us to continue to build sport.
Football – Olivia Brewster
Hockey- Ella Hyatt-Brown, Natalie Duley and Georgina Bryce (in photo below)
Netball and Volleyball – Junitta Moa
Waterpolo- Sarah Stewart