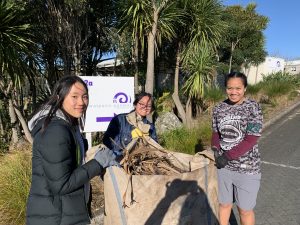 Senior students and staff from Carmel College, McAuley High School, St Mary's College and Villa Maria College gathered for three days during the term break for a Young Mercy Leaders Conference.  The gathering was not just a New Zealand gathering of students in Mercy schools – the days commenced with an online programme led by the staff at Mercy International Centre in Dublin and included participants from all around the world. The worldwide Mercy family stretches across over 30 countries and includes thousands of students.
The online presentations included sessions from Mercy Global Action, the New York based office of Mercy International Association, who lead the advocacy work for the two critical areas for the mercyworld – displacement of people and degradation of Earth.
One of the key speakers at the conference was Sister of Mercy, Karen Schneider. Sr Karen is a paediatric physician at Johns Hopkins Hospital in the United States and coordinates medical teams to travel to developing countries to provide lifesaving surgeries for those who do not have access to quality healthcare.
The international programme was extended by participation in a local programme where the students visited Papatuanuku ki Taurangi and Te Waipuna Puawai, both initiatives of the Sisters of Mercy. Here the students learnt about the work of these community organisations and got their hands and feet dirty as they spent the afternoon helping with the project that cares for the wetland area on the site.
Another highlight for the students included the workshop on Tikanga Maori led by Matua Maurice Nelson from Carmel College. The games Matua Maurice led were appreciated by the students as they helped them to explore different leadership traits.